Aug 30, 2023 06:30 PM Eastern Time
Guest speaker: Bindu Nair, Director of Basic Research, U.S. Department of Defense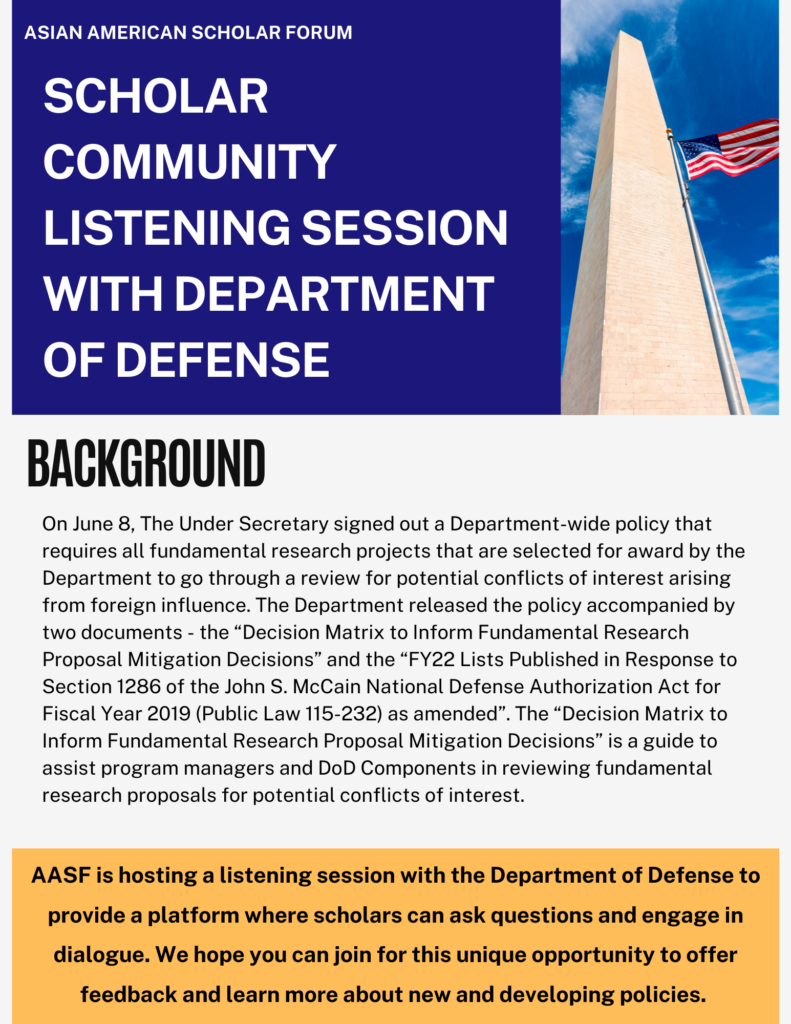 We cordially invite you to join us for our scholar community listening session with the Department of Defense (DoD). We are hosting this listening session to provide a platform where scholars can ask questions and engage in dialogue. We will be welcoming Bindu Nair, Department of Defense Director of Basic Research. The community listening session will take place on Wednesday, August 30th at 6:30pm ET. Please save the date and mark this important discussion in your calendars. This is a unique opportunity to offer feedback and learn more about new and developing policies at the DoD. 
As additional background, the Under Secretary signed out a Department-wide policy on June 8th that requires all fundamental research projects that are selected for award by the Department to go through a review for potential conflicts of interest arising from foreign influence. The Department released the policy accompanied by two documents – the "Decision Matrix to Inform Fundamental Research Proposal Mitigation Decisions" and the "FY22 Lists Published in Response to Section 1286 of the John S. McCain National Defense Authorization Act for Fiscal Year 2019 (Public Law 115-232) as amended". Available at: https://media.defense.gov/2023/Jun/29/2003251160/-1/-1/1/COUNTERING-UNWANTED-INFLUENCE-IN-DEPARTMENT-FUNDED-RESEARCH-AT-INSTITUTIONS-OF-HIGHER-EDUCATION.PDF The "Decision Matrix to Inform Fundamental Research Proposal Mitigation Decisions" is described as a guide to assist program managers and DoD Components in reviewing fundamental research proposals for potential conflicts of interest.
We are hosting this session, so that there can be more open dialogue where the scholar community has opportunities to be heard. Now, more than ever, we ask for your thought partnership as we continue to work to offer constructive feedback and educate policymakers, federal agency staffers, and the general public. I encourage you to send any questions, feedback, or comments you may have in advance or during the session.
We hope that you can join us for this important event, and please feel free to share with other scholars and colleagues who may be interested.
If you would like to share any questions anonymously, please feel free to share in the link below: